Purpl Pro Potency Measurement System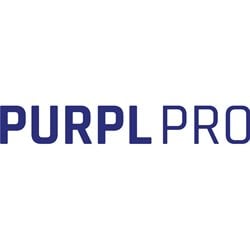 Purpl Pro turns your mobile phone into a state-of-the-art Potency Measurement System/THC tester. The Purpl PRO Potency Measurement System was developed by scientists at with an unprecedented combination of accuracy and usability. After several years in development and cross-validation against the efficiency of traditional laboratories, the device was released as the world's first pocket-sized instant potency testing device designed specifically for the cannabis industry. The Purpl PRO is the only device on the market to use Near-Infrared Spectroscopy to measure total cannabis potency from a small portion of any dried cannabis sample. Results will show critical measurements of total THC (THC and THCa) and total CBD (CBD and CBDa) content as well as moisture and water activity.

More details about Purpl Pro Potency Measurement System:
ACCURATE
The Purpl PRO's proprietary near-infrared technology has proven to have an accuracy of +/- 2%, a variation that compares favourably to tests performed by licensed cannabis testing laboratories. Extensive cross-validation has backed the device with the highest level of accuracy attainable but with the advantages of reduced complexity (built-in grinder to prepare samples), instantaneous results and unlimited reusability. For producers, this means allowing your operation to pocket thousands of dollars in a season.
SIMPLE TO USE
A non-invasive laser will shine on plant material and make contact with vibrating chemical compounds to produce a distinct measurable pattern. NIS technology will allow you to instantly measure the potency in cured flowers and growing plants. Measurements can be taken throughout the complete life of the plant.
The Purpl PRO gives users the transparency of knowing the exact THC and CBD levels in any strain and at every step of the cannabis value chain from cultivation to consumption. Compared to competitors, there is no extra testing equipment. Analysis takes 3 clicks and provides a real-time measurement in 10 seconds.
The adaptability and quality of this device have raised the industry standard of cannabis potency testing.
From cultivators to retailers to consumers, anyone can use the Purpl PRO module with the ability to perform tests in any field, commercial or home environment. Applications are trailblazing and incredibly wide-ranging, ultimately allowing you to benefit from the power of insight.
This kit includes:
Purpl PRO Bench
Sample Holder and Cap
Grinder and Funnel
Calibration Cartridge
Cleaning Brush
USB cable
Quick Start Guide
Hardshell Case
Specifications
Phone requirements: Apple iOS version 11.0 and later; Android version 5.0 and later
Phone connectivity: Bluetooth
Network connectivity: Wifi or Network data connection required
Measures total THC, total CBD, Moisture, Water activity
Technology: NIR (Near Infrared Spectroscopy)
Handheld portability
Accuracy: THC +/- 1.89%; CBD +/- 0.96%
Min. Detection Threshold: >= 2.0% (THC, CBD)
Max. Detection Threshold: 30% THC, 15% CBD
Sample Preparation: Grinding
Time / Test: 5 seconds
Internal: Light Source: Tungsten bulb (x2)
Internal: Bulb Lifetime: > 40,000 hours
Internal: Battery Life: ~ 300 measurements per charge
Operating Temperature: 50 to 122°F (10 to 50°C)
Charging Temperature: 32 to 113°F (0 to 45°C)
Storage Temperature: 23 to 95°F (-5 to 35°C)
Max. Relative Humidity: 80% for temperatures up to 88°F (31°C), decreasing linearly to 50% at 104°F (40°C)
Ingress Protection: IP54
Warranty: 1 year on Purpl PRO Bench; 30 days on Kit Accessories
Dimensions & weight
Dimensions 3.125" x 3.125" x 1.125"
Weight 0.35 lbs
***PLEASE NOTE THAT ALL PURCHASES OF THE PURPL PRO POTENCY MEASUREMENT SYSTEM ARE FINAL AND MAY ONLY BE RETURNED IF THE UNIT IS DEFECTIVE.***
More Information

| | |
| --- | --- |
| SKU | 09044000034 |
| Part Number | PPKit |
| Acomba | 232099 |
| Shipping Weight (lbs) | 0.00 |
| Warranty | 1 year |
| Shipping Lenght (in) | 0.00 |
| Shipping Width (in) | 0.00 |
| Shipping Height (in) | 0.00 |
| Brand | Purpl Pro |